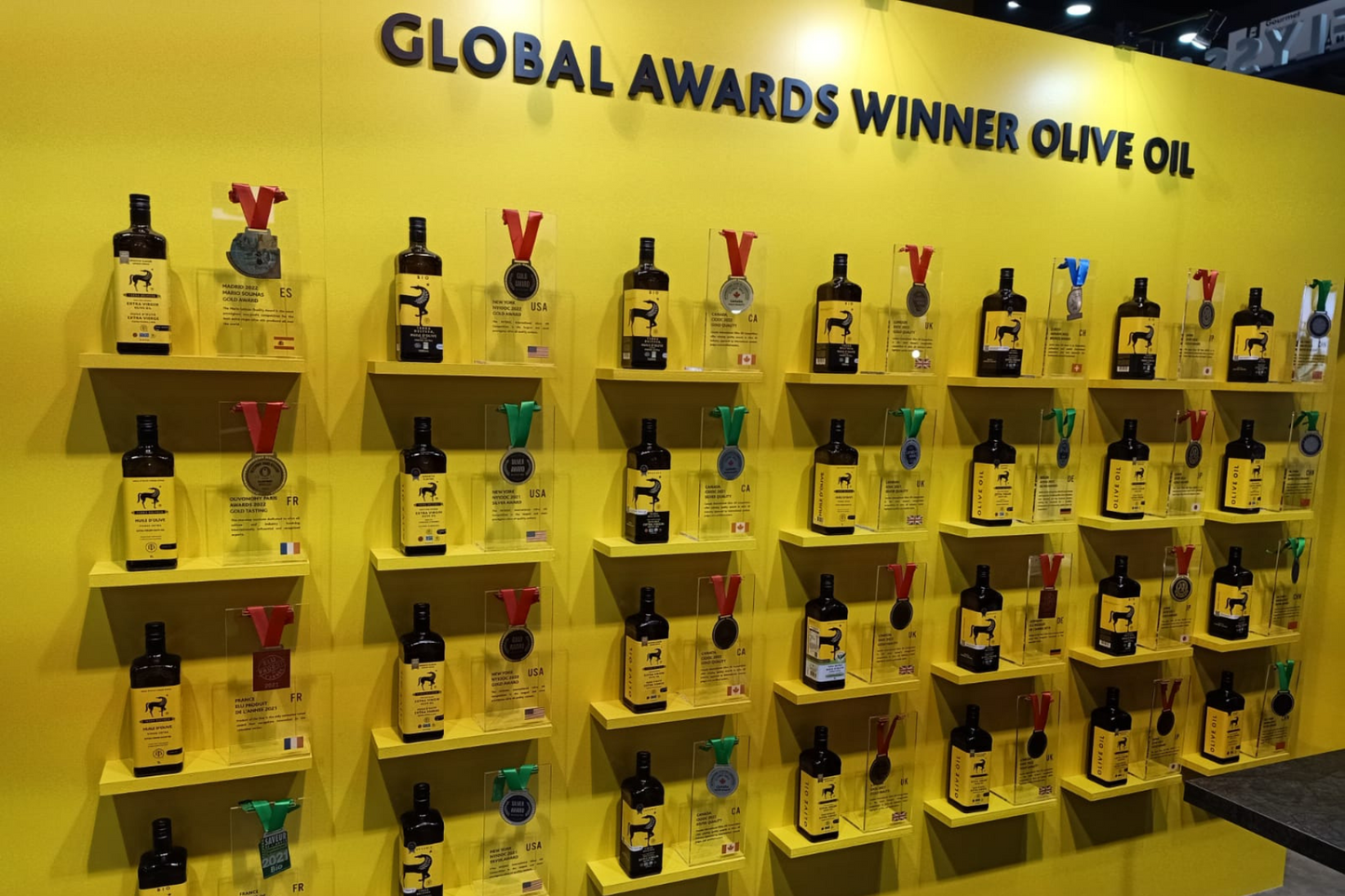 This year's award season has been a great opportunity for us to celebrate our hardworking farmers and you, our customers who trust and love Terra Delyssa Extra Virgin Olive Oil. We were proud when 15 of those medals came from competitions all around the world.
These awards are a testament to our premium quality and taste backed up by blockchain technology.
Mario Solinas Quality Award
The International Olive Council (IOC) is paying tribute to Mario Solinas, the man who did so much for olive oil quality standards by organizing a competition every year in his honor.
The best oils are recognized with this award and will be called "Mario-Solinas Quality" after its creator.
We are very proud yet humbled to win the first prize in 'Delicate Green Fruitiness' at this competition.
The Mario Solinas Quality Award is the most prestigious non-profit competition for the best extra virgin olive oils produced all over the world.
London Olive Oil Competition: 3 Gold Awards
We won three gold medals in the quality category for our conventional extra virgin olive oil and zero residues of pesticide EVOO.
Our organic extra virgin olive oil won the gold award in the health claim category.
CIOOC Canada: 2 Gold Awards
The Canada International Olive Oil Competition (CIOOC) is the most prestigious olive oil contest in Canada, and we are very proud to be awarded 2 gold medals in the quality category for our organic and conventional extra virgin olive oils.
Japan Olive Oil Prize: 2 Golden Awards
Both our organic and conventional EVOOs won gold awards at Japan's most professional olive oil competition for the second year in a row.
Olivonomy Paris: 1 Gold Award
An international competition offering the most legitimate and prestigious prize list on the international scene, highlighting the dynamics and diversity of olive oil production and its terroirs.
In these tasting awards, products are triple-blind and evaluated solely based on their organoleptic qualities: characteristics, texture, and aromas.
Our extra virgin olive oil won the gold tasting award.
NYIOCC World Olive Oil Competition: 2 Gold Awards
Among 1,244 Olive Oils from 28 different countries, we were rewarded for our exceptional EVOO of superior quality by the judging panel which is a team of leading experts who follow a rigorous technical protocol to analyze each oil for its sensory characteristics and qualities.
Of all these competitions, the New York International Olive Oil Council (NYIOOC) World Olive Oil Competition is the largest quality contest in this industry.  This is the third year in a row that Terra Delyssa EVO wins this competition. Both our conventional and organic extra virgin olive oil won the gold award this time. Terra Delyssa's sister brand, Origin 846, also won a silver medal in this year's competition for the second year in a row.
China Olive Oil Competition: 2 Silver Awards
This international event highlights and recognizes the quality of olive oils and the winners are recognized around the world; we are proud that our EVOO and organic EVOO both won silver awards.
GOOA Berlin: 1 Silver Award
Our organic EVOO won a quality silver award at Berlin Global Olive Oil Awards in the year 2022.
Zurich Olive Oil Awards: 1 Silver Award
Our EVOO won a silver award providing a good complex and harmonious total impression, as well as a long persistency of the oil's positive attributes.
In 1998, the first shipment of Tunisian extra virgin olive oil left for America. We had dreamed about this day since we started CHO America 16 years ago and it is still a privilege to be able to represent one of North Africa's most delicious exports on behalf not only ourselves but also all that hard work put into producing high-quality olive oil with love from our orchards.
| | | |
| --- | --- | --- |
| 2022 Competition | Extra Virgin Olive Oil | Organic Extra Virgin Olive Oil |
| MARIO SOLINAS | Gold Award |   |
| NYIOOC | Gold Award | Gold Award |
| London IOOC | Quality Gold Award | Health Gold Award |
| Canada IOOC | Quality Gold Award | Quality Gold Award |
| Japan JOOP | Gold Award | Gold Award |
| OIL CHINA AWARDS | Silver Light Award | Silver Organic |
| OLIVONOMY PARIS AWARDS | Gold Tasting Award |   |
| BERLIN GOOA |   | Silver Award |
| OLIVE OIL AWARDS ZURICH | Bronze Award |   |